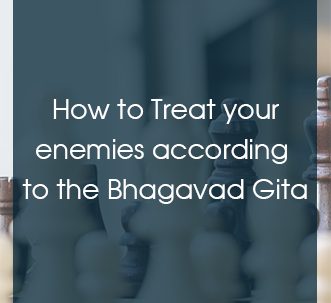 Enemies- have you ever noticed the pronunciation of this word?
The first letter of this word is Silent "E". Who are the enemies? And how do we conclude the norms to crown someone as an enemy? Finally, what is the obligation to create enemies?
Just ask yourself these questions if you know the answers, please note it down somewhere and compare them with this article and see how many answers match.
In our puzzled life, we are just running furiously without recognizing the destination. We human beings only make our life jumbled. It's not like that our generation is particularly gifted with complications, dilemma and problems have been since the origin of the universe, but how they confront with the situation and sustain life is what matters to lead a happy life.
Let us figure out that how they cut and shuffle the situation. They concern the divine writing of Hindus, the sacred truth and worldwide known as Bhagavad Gita, the detailed conversations between Arjuna and Lord Krishna.
In Bhagavad Gita, Lord Krishna advises Arjuna and trains him how to respond to numerous situations and shows him the right path to deal with his enemies?
In this generation, we can again, select the reference to his teachings and make life peaceful and stress-free. 
Lord Krishna narrates:-
uddhared atmanatmanam natmanam avasadayet atmaiva hy atmano bandhur atmaiva ripur atmanah
Meaning: – A man must elevate himself by his own mind, not degrade himself. The mind is the friend of the conditioned soul, and his enemy as well.
 (Bhagavad Gita-6.5)
Bhagavad Gita has elegantly expressed that your mind is your first enemy if you discipline your mind, then there will be no such word as an enemy in existence for you. Further, it illustrates that to control mind do meditation, yoga and devote yourself to Me, and your Karma and Dharma.
In simple language we can understand it as if we cultivate the habit of forgiving others, there will be no enemy left and we will lead a peaceful life. Evil can't be confronted by evil or we can say hatred can't be transformed into love with the hatred only.
 Don't assume anyone as your enemy, if anyone ever occurs to you as an enemy then try to love them and pray for them so they can understand the phenomenon. All individuals should control their anger and not simply take an anyone as a sinner or an enemy.
If one accomplishes something bad, it's certain that directly or indirectly he will receive the crop of his Karma. Therefore, one must grasp and accept the power of forgiveness. Forgiveness is not the weakness it is the courage and strength.
Say goodbye to the feeling of revenge. Each and every individual should be considered equally.  
Bhagavad Gita lays the emphasis on contracting with emotions and attachment. In most situations, panic and attachment are simply making other suspect and proclaim them as our enemies. Forget about expectations, so don't expect anything good from anyone because you would forgive him if he did ill to you but always perform a good Karma for the benefit of others. It's essential to realize that if we forgive someone, it's our Karma and we will only get the fruit of this Karma. Once you forgive there will be no enemy. Forgiveness is essential towards the sinner.
That's why the Bhagavad Gita is also acknowledged as the doctrine of global integrity. So decide to forgive and don't feel bad to request someone to forgive you if coincidentally you have accomplished something wrong or hurt someone
Keep making friends as there is no existence of enemies.
Hare Krishna
Wish to Understand Bhagavad gita and how it can change your life?