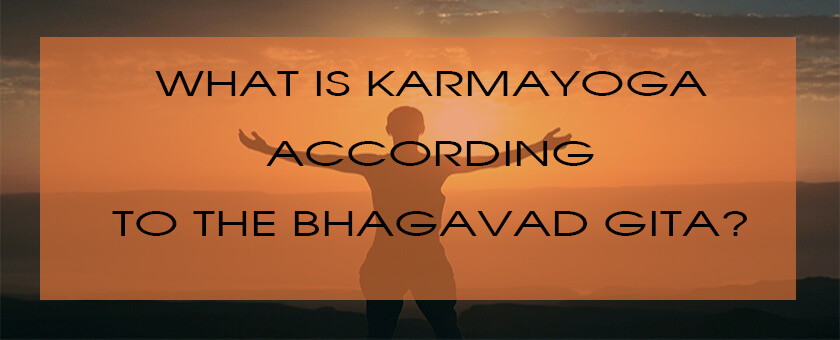 यस्त्विन्द्रियाणि मनसा नियम्यारभतेऽर्जुन ।
कर्मेन्द्रियैः कर्मयोगमसक्तः स विशिष्यते ॥
Signification: – On the other hand, he is controlling the organs of sense and action by the power of his will, and remaining unattached, undertakes the Yoga of selfless action through those organs, Arjuna, he excels.
Wow! What beautifully Lord Krishna has conveyed the message related to Karma yoga to Arjuna in the Bhagavad Gita.
But what is Karmayoga in layman language? Before understanding Karma yoga it is essential to recognize about karma and yoga because only these two words combine to form the powerful word Karmayoga.
Karma yoga is the right direction for the progress of society and an individual. In Bhagwad Gita, the term Karma represents actions and deeds performed by an individual or human beings.
Karma means action or work. There are two types of Karma- Niskama Karma- (work) or activities done without expectations of a favorable result or fruit, and the other is Sakama Karma- in which work is done with expectations for a favorable outcome.
The karma is performed to control our body, satisfy our desires, for example, to serve our household, pray and perform other spiritual acts and much more.
Now, let's come to Yoga- The term Yoga is formed from the word "YUJ" which means joining, knotting together, etc. Yoga is commonly considered as the exercise of breathing control, inhaling and exhaling to purify the body or having different body postures, and the exercises to keep the body fit. But in Bhagwat Gita, this term acquires a much deeper signification.
The brief meaning of Yoga explained by Lord Krishna is as "Yogah Karmasu Kausalam" which means Kausalam a rare skill, proficiency or technique in performing something. The one who does yoga is identified as Yogi but remember becoming a yogi doesn't mean to become Sanyasi. There is a distinction between a Yogi and Sanyasi.
So, Karmayoga refers to all good, correct human acts implemented with concentration, expertise, and skill for paving the path to salvation (Moksha). It requires your services, activities or deeds to be without any attachment to the temporal world. In the Bhagavad Gita, Lord Krishna advises Arjuna to perform his work sincerely by applying his skills, techniques, and ability without any intention of favorable results.
Karmayoga, as described in the Holy Bhagavad Gita, is the absolute form of a body to attain Moksha. It illustrates to concentrate your strength and ability on the effort needed to achieve the work. Karma yoga makes the living being strong enough so that materialistic happiness doesn't affect him.
The Bhagavad-Gita points out that not for a single moment also an individual abstains from Karma, he is born to perform karma, but it is certainly important that how effectively he performs his karma without expectations. There is no place in karma yoga for selfish actions or wrong deeds.
Karmayoga helps society and humankind to come out of the Janam- Mrityu chakra and get Moksha for which he is struggling all through his life.
Karma yoga is not about meditation, but it's the pathway to devote oneself to God with good karma. Actions such as breathing and absorption are separate. It doesn't seem feasible to do Karmayoga as mentioned in this article. Man is said to be a social animal and it is not easy for him to make himself enough strong to sacrifice materialistic elements and to leave 'Moh', the attachment from family, from the pleasures, from wealth, from near and dear ones etc.
Now the question arises, how one should engage in selfless actions as a way of sacrifice and service to God and perform karma yoga?
True karma yogi controls his senses and desires through the intellect and practice, he engages himself in karmas (activities and work) free from any expectations. True karma yoga consists of performing one's duty without attachment, remaining neutral whether it's success or failure.
It is skilled by self-control, regulating the mind and the senses. The karma yogi values the benefits of regulating his senses whether it's my mode of meditation or yoga.
He engages in actions by controlling his mind and senses, to work so that he can overcome his materialistic temporal desires and remain neutral whatever may be the situation.
He is not concerned for anyone whether one is doing correct deeds (karmas) or the wrong deeds (karmas). Patiently he performs his karmas without Moh (attachment) and expectations. Actions or doings of Karmayogi are to transform himself and this is the main essence of karma yoga.
The karma yogi surrenders his Karma (deeds) to God as he performs them, with his soul and mind by also devoting himself also to God.
He strengthens his emotions and makes himself free from expectations, attachment and mental stress or free from Kaam, Krodh, Lobh (lust, anger, and greed). The one who performs Karma yoga understands that these three are the gateways to hell and will never give him Moksha and he will always be struggling in Janam- Mrityu chakra.
Karma Yoga is not bounded by actions only, but it strengthens the senses, which is also important in the practice of karma yoga. His only motive is to purify his soul.
Spirituality plays a vital role in performing Karmayoga, meditation, controlling the senses through Yog (physical activities performed to keep body and mind fit).
Karma yoga never supports that an individual should stop following his social duties it may be towards his family, society, etc., but it supports that one should perform his duties in a fair and correct manner without expectations and has the only motive of achieving the goal of his life.
So, I hope this article would have helped you to understand Karmayoga and its essence.
Keep doing Karma without expectations and start your journey to be a Karma Yogi.
Hare Krishna
Wish to Understand Bhagavad gita and how it can change your life?